Plus, You'll Give Your Players the Power to Boost Batted Ball Distance by 60 Feet in Just Three Months — Guaranteed!
Order today & get the Free PDF bonus report: "7 Crucial Mistakes Made When Teaching Explosive Rotational Power"
A consistently powerful "friction-free" swing in 8-steps
Effortlessly add bat speed in 60-days
Naturally & easily load the body like a spring
Fix movement dysfunction limiting athletic performance
Over eight-hours of video optimized for mobile devices
Dear Baseball/Softball Coach or Parent,
Your players eat, sleep, breathe, and live baseball or softball. If you are a coach, you want the absolute best performance possible from your hitters. If you are the parent of baseball or softball players, you know how important incredible performance is to your young athletes. Your players have visions of becoming stars in the eyes of their coach and teammates… and of having everyone wonder how the heck they can send the ball screaming over the fence so effortlessly! Maybe your players even have their sights set on a professional career…
But no matter how much your hitters practice and train, they just can't seem to develop the swing that makes people stand up and take notice.
Your players probably won't tell you this… but deep inside, they're embarrassed by their ability to hit a moving pitch. They have the passion - and maybe the talent - to be a great hitter… but right now, they feel like they're no more capable of consistently crushing the ball than they were the first time they picked up a bat.
Tell me if any of these sound familiar to you:
You've watched your players put in hours of practice each day for months (or even years)… but they can't seem to add a single inch of distance.
You've tried to help your hitters by showing them slow-motion videos of elite hitters in action… and they've spent countless hours watching the videos… but even when they try to replicate the techniques, their swings look nothing like what's on film.
You've enlisted the help of professional hitting instructors with - what seems like - solid playing credentials, hoping your players would pick up some useful tips… but your hitter's results are still frustratingly inconsistent.
Your players are worried that they don't have the size or strength it takes to absolutely CRUSH the ball.
Your players have become so frustrated by their lack of progress that they're considering giving up baseball or softball altogether.
You wish that you could finally find a simple way to help your batters consistently and dramatically improve their swings… so that they could finally "wow" their teammates and become the players they've always dreamed of being!
My friend, before your players decide to put away their bats for good… you need to understand that it's not their fault…
Why Most Hitters (and Even YOURS) Can't Master a Consistently Powerful Swing
You see, most players don't suffer from a powerless effort swing because they're not big enough or strong enough. All you need to do is look at average-sized greats like Hank Aaron and Sadaharu Oh (Japanese home-run leader with 868 lifetime dingers) to see that your players don't need to be behemoths to really drive the ball. There's minimal muscle needed to generate a truly explosive rotational swing.
And it isn't because your hitters haven't put in enough practice. You've probably heard about the "10,000 hour rule," which states that 10,000 hours of practice will give anyone absolute mastery over anything they want to achieve. But 10,000 hours spent doing the wrong things will get your players nowhere!
The real reason why most hitters can't experience measurable, consistent improvement is because they don't understand the science behind the swing.
Even watching and studying elite hitters crushing the ball into the stands (and make it look dang easy) can't help your players with this. That's because seeing incredible performance in action isn't going to make your players better if they don't understand the rules of explosive human movement science…
Perfecting an EXPLOSIVE Rotational Swing Doesn't Have to Be Difficult for Your Players
What if you had access to a resource that uncovered, for your hitters, the exact scientific principles behind an effortlessly powerful swing… and gave them the specific steps they need to build natural repeatable power?
What if your players could easily integrate these principles into their swings without spending countless hours on frustrating, fruitless practice?
And best of all, what if your hitters could get the incredible swings they've always dreamed of in as little as three months from now?
As a coach:
You'd feel accomplished, knowing that you finally have the tools to cultivate star hitters and crush your competition.
You'd feel relieved, knowing that you no longer have to put your players through endless hours of practice that produce absolutely no results.
You'd feel empowered, knowing you're finally helping your players become the best they can be.
As a parent:
You'd feel enthusiastic, knowing that your players have everything they need to finally impress their teammates and feel awesome about their performance.
You'd feel supportive, knowing that you're giving your hitters the tools they need to pursue their dreams with full force.
You'd feel joyful, knowing that you've helped your players gain incredible confidence!
You'd feel relaxed, knowing that you never again have to dump money and time into training for your hitters that just doesn't work.
My friend, in a moment, you're going to discover something that will change your hitters' swings forever. But first, let me tell you a bit about me…
I Was Frustrated by My Lackluster Swing… but What I Discovered Was a Game Changer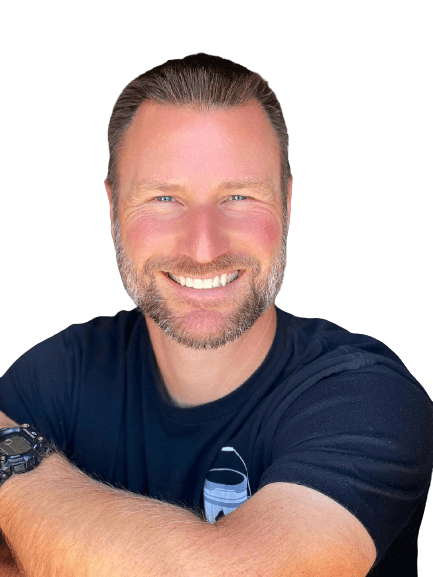 My Name is Joey Myers, the founder of Hitting Performance Lab. I'm a member of the American Baseball Coaches Association (ABCA) the International Youth and Conditioning Association (IYCA), and the Society of American Baseball Research (SABR). I'm also partnered with the Positive Coaching Alliance (PCA).
I'm a certified Youth Fitness Specialist (YFS) through the International Youth Conditioning Association (IYCA), Corrective Exercise Specialist (CES) through the National Academy of Sports Medicine (NASM), and Vinyasa yoga instructor...and I'm also certified in the Functional Muscle Screen (FMS).
I've spent 10 years in the corrective fitness field, and am passionate about helping players - just like yours - dramatically improve performance through the science of human movement.
But it wasn't so long ago that I was just as frustrated as your hitters are now. The stats I accumulated in my four years of Division One baseball at Fresno State (2000-2003) were completely subpar:
.250 AVG, 9 homers, and 40 RBIs
I'm sure you'll agree that these aren't exactly impressive stats.
But I knew there had to be a better way to improve my swing… without following all of the same tired advice and techniques most coaches teach (you've probably heard more than a few of these):
Squishing the bug
Power comes from the backside
Throw your hands at the ball
Load and explode the hips
Walk away from your hands
Sit back
Rotational versus linear hitting philosophies
So I delved into the science of human movement. And I discovered that the above instructional "staples" of swing wisdom weren't backed by science at all!
But more importantly, I found that applying the correct scientific principles could dramatically improve batted ball distance… without requiring any extra strength. In fact, I found that I could actually crank out far more impressive swings with much less effort!
Using effortless power, NOT a powerless effort.
I knew there were many players out there – motivated, talented players just like yours – who were facing the same struggles I faced at Fresno State. And I knew I had to develop a simple way to give other hitters exactly what I had discovered… so that they could finally experience the confidence and incredible performance that comes with mastering a perfect, effortless swing…
If You're Ready to Help Your Players FINALLY Stop Struggling and Start Crushing the Ball Effortlessly… in as Little as 3 Months from Now… You NEED "The Truth About Explosive Rotational Power"
"The Truth About Explosive Rotational Power" is a simple, easy to follow training system that unleashes the power of human movement science to massively improve your hitters' swings and give them the batted ball distance they've always wanted… no matter their size or strength!
In this in-depth training, your players are going to discover how 5 simple "science tricks" will quickly get them past the "plateau" they've been struggling with and give them the natural power to crank out jaw-dropping swings all day long… even if their swings have been unimpressive for years:
Un-Weight the Bat: This simple trick has exponentially increased the performance of gymnasts, shot putters, hammer throwers, pitchers, and other athletes for centuries… and now, your hitters are going to discover how to use the un-weighting principle to turn faster, feel lighter, and send the ball soaring like a projectile missile time after time!
The Science of Turning Faster: Your players will discover how to Conserve Linear into Angular Momentum to create explosive power while dramatically reducing effort. Athletes of dozens of disciplines use these principles to optimize force transfer of energy… and now your hitters can use it to create their own "unfair advantage."
The Spine Engine: The three spinal movements (extension/flexion, side bending, and axial rotation) drive ALL human movement. Your players will find out how optimizing spinal engine mechanics will generate incredible power that takes their hitting performance to new heights!
Head/Spine Alignment: Proper head/spine alignment is crucial to transferring force from your players' bodies to the barrel… and by extension, to the ball. Your players will get the exact training they need to properly align head and spine to minimize wasted energy and create eye-popping ball exit speeds!
Loading the Body like a Spring: Tapping into the natural power of tension and compression forces in the body is the key to truly amazing batted ball distance. Your hitters will discover the exact mechanics they need to use the "Catapult Loading System" – the one hitting technique that will make a shockingly huge difference in their repeatable power…
You see, when your players put these 5 simple science tricks into play, the tricks work in concert to exponentially increase their power (and distance)… without requiring any additional strength. In fact, because these tricks involve less effort than traditional hitting techniques, your hitters can experience the confidence of knowing they'll crush the ball more consistently… even when winning the game comes down to hitting an extra inning wall banger!
Here's Exactly What You're Getting when You Order "The Truth About Explosive Rotational Power" Now
You're getting 3 exclusive training modules packed with swing-transforming online videos your hitters can watch at their convenience, to rapidly and massively improve their batted ball distance. These modules are even optimized for mobile devices, so your players can take advantage of the power of this training at home, on the go, or even in the dugout…
Here's just a sample of what your players will learn with "The Truth About Explosive Rotational Power" starting today:
How harnessing the laws of physics can consistently add 50 feet or more to ANY batted ball
How to finally hit like the top MLB players, no matter their size
The 1 odd twist that will give your players explosive rotational power fast
How to master the exact bio-mechanical systems that generate incredible power with minimal muscle exertion
And much, MUCH more.
Here's what others say about the course…
"Hey coach, even with Mia still hitting with her hands near hear head, Mia in a 3 game span, hit 3 home runs over the fence and a stand up double, three singles and four walks. Only made one out, a shot down first. She never had a series of games like this an especially playing with girls that are this much older. Mia is able to play in 12 and under, but she is playing in the high school division. Our sights are getting ready for October 4 and 5. That is when we go to the U of Florida camp. Their assistant coach has called Mia's coach twice in the past week and wants us to call him this week. Let keep on course and work hard, thanks so much for all your help coach." PRIMO BUFFANO, THE FEEDBACK LAB OWNER
"You're the first I've seen to successfully articulate and adopt human movement into anything practical. What you've put together is very impressive. Most of what I've come across, even from those in the profession that understand human movement are assessment methods and tools to analyze movement and posture only to sell a few methods to correct dysfunction issues. Few are willing or able to explain human movement the way you have. These principles are the key for both performance and injury management. I appreciate the time and effort you put in to help those looking to perfect their craft and for those of us out their trying to help them." H. Orlando James ATC, CSCS, NASM-CES/PES, THE TRUTH COURSE OWNER
"Your new videos are awesome. Your product is becoming one of the best on the internet for sure!" ANDY RANDO, FLORIDA, THE TRUTH COURSE OWNER
"I first bought Jaime Cevallos book last spring that led me to Baseball Rebellion then to you. Your presentation style is great. My older son clicked with the 2 parts to the swing rather than all the pieces of the puzzle drills. My other son is two years younger and saw powerful results in just a few drills." COREY MIR, THE TRUTH COURSE OWNER
"…bat speed [.com] doesn't expand too much on the loading and forward momo [momentum]...Home boy Hit a Dead Center field shot 220ft in District tourney tonight with his omen. The last shot he hit was with an Easton Red Stealth XL which is a way hotter stick. So he's stroking dude." BLAKE BLACKWELL, THE TRUTH COURSE OWNER
"I have a 14 year old daughter playing Fastpitch softball that is starting to reap the benefits of your swing. She is 5'7" and 126 lbs. but hit 5 homers this summer!" ADAM VARNER, THE TRUTH COURSE OWNER
"Big fan of the catapult system. Colin is killing it! As you have pointed out it naturally stops arm barring additional benefit for Colin it has helped with his timing allowing the ball to travel deeper. 2 Grand Slams this past weekend in Cooperstown NY tournament." CHAD CASAMENTO, THE TRUTH COURSE OWNER, 11YO SON
"I have to admit, I jumped off the Joey Myers down and through boat when I ended up in limbo between down and through, or on plane swinging. I was really excited when you pulled back up to the dock with a new boat, lol. It's a much nicer boat this time. Probably a yaht, lol. Thanks Joey." JON AUSTIN, THE TRUTH COURSE OWNER
"Great job Joey! I have been replaying so many swings during this years playoffs. After watching your videos and buying the truth videos i am all in. You can replay any of Ortiz's swings and they all are the same right now. He is a man amongst boys this postseason. What you are teaching is so abundant in MLB but not amongst the youngsters and most coaches. Keep up the good work man!" FRED HOLDSWORTH, THE TRUTH COURSE OWNER
What's in These Exclusive, Game-Changing Modules?
I could tell you absolutely everything your players will learn in these three power-packed video modules… but you want to get results for your players, not read about them! So instead, I'm going to give you just a taste of the massive advantage you're investing in for your players today:
Module 1: The Lab
Your batters will discover why traditional hip thrusting techniques will actually RUIN their game
Your hitters will find out why the bat speed myth will frustrate them (and keep them from crushing the ball)
Your players will learn how to use the laws of physics to dramatically increase batted distance while decreasing effort
Your hitters will discover how to use naturally opposing physical forces to generate dynamic power
Your players will learn how integrating human movement science into their swings will have them hitting like the top MLB players…
Module 2: The Practice
Your batters will discover the 3 critical steps to a consistent stance
Your hitters will learn how to master the "gorilla grip" for optimal performance
Your players will find out how following the pitch and the "float" will massively improve their game
Your players will master the un-weighting principle for a faster, lighter-feeling swing
Your hitters will learn how to turn themselves into "projectile missiles" for explosive hits
Your players will get bonus videos to make adjustments to pitch location, get rid of bad hitting habits, make the science behind the swing "sticky," and MUCH more…
Module 3: The Beast of Balance
Your players will get powerful corrective exercises to restore ideal balance for powerful swings with minimal risk of injury
Your batters will get Catapult System care exercises to keep their muscles, joints, and connective tissues in optimal shape
Your players will discover proven massage techniques for dramatically increasing their range of motion
Your players will learn powerful yoga stretches to accelerate their performance and protect their bodies!
Your hitters will find out how to mobilize the most critical part of their bodies for sprint speed…
And this is just the tip of the iceberg! With the wealth of techniques and information you're investing in for your players today, they can easily add 60 feet or more to their batted ball distance… in as little as 3 months from now!
And That's Not All You're Getting for Your Players Today!
There's much more on the way, including exclusive webinars, updated training and drill videos, and a secret Module 4 that I'll include with the online video course. These bonuses are absolutely free when you order "The Truth About Explosive Rotational Power Today!" So you won't just be getting the incredible modules described above today… you're getting ongoing training and support to make your players the most impressive, feared hitters around.
Right now, there are two limited time only bonus trainings you'll find in Module 4: The Bonuses:
Hitting Motion Analysis Checklist for Dummies (I'll lay out the entire strategy in this exclusive video)
Pre-Practice Warm-up Hurting Your Young Hitters? (Learn how to protect developing players in this eye-opening video)
Get "The Truth About Explosive Rotational Power" Today
Are you ready to help your hitters finally know what it feels like to have a perfect, consistent swing that sends the ball screaming to the fences? Then you NEED to get your hands on "The Truth About Explosive Rotational Power" right now!
Baseball and softball "gurus" would love to charge hundreds of dollars for this incredible training (if they could get their hands on it). But right now, you're getting every single bit of this game-changing training for your players… including all of the current and upcoming BONUS modules… for just:
$77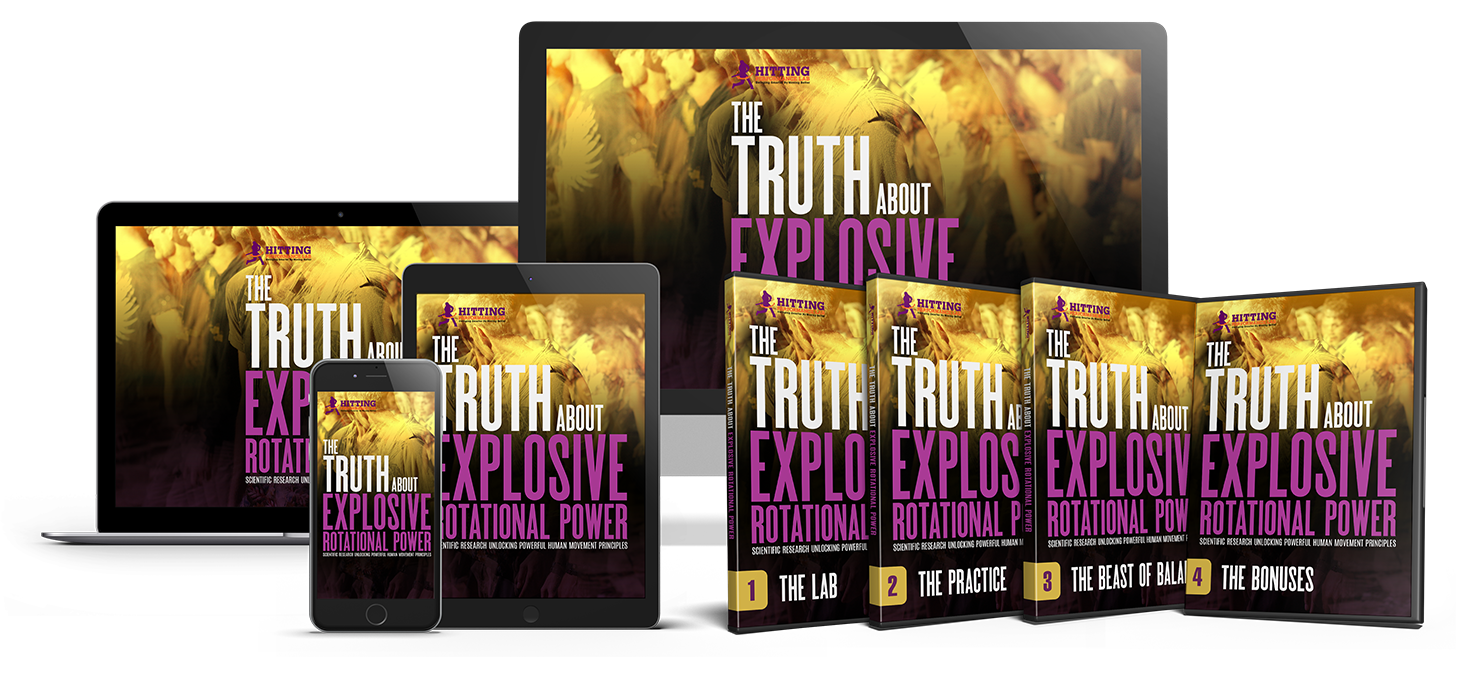 What You'll Discover:
Order today & get the Free PDF bonus report: "7 Crucial Mistakes Made When Teaching Explosive Rotational Power"
A consistently powerful "friction-free" swing in 8-steps
Effortlessly add bat speed in 60-days
Naturally & easily load the body like a spring
Fix movement dysfunction limiting athletic performance
Over eight-hours of video optimized for mobile devices
And You're Protected By My Personal Money-Back Guarantee
I'm completely convinced you're going to be blown away by the incredible training you're investing in for your players today, and how it will add massive power and distance to their swings just months from now. But if you're not thrilled with everything you're getting today… or if you're underwhelmed for any reason at all… I insist that you contact me within 60 days after your purchase so that I can refund 100% of your investment today – no questions asked.
P.S.: For much less than what you probably spend on baseball or softball gear each season, you're getting an entire training system that can help your hitters add massive – natural - batted ball distance (and dramatically improve their game) forever. Don't spend another day letting your players feel embarrassed about their swings – order today!
P.P.S.: This offer won't be around for long! I've sold it for $99 before. Which means you'd be SAVING $20…Even though it would still be a steal at triple the price, I want you to get your hands on this exclusive system for your batters as affordably as possible! So if you don't want to miss out on getting "The Truth About Explosive Rotational Power" online video course at the absolute lowest price… click the button below and order now!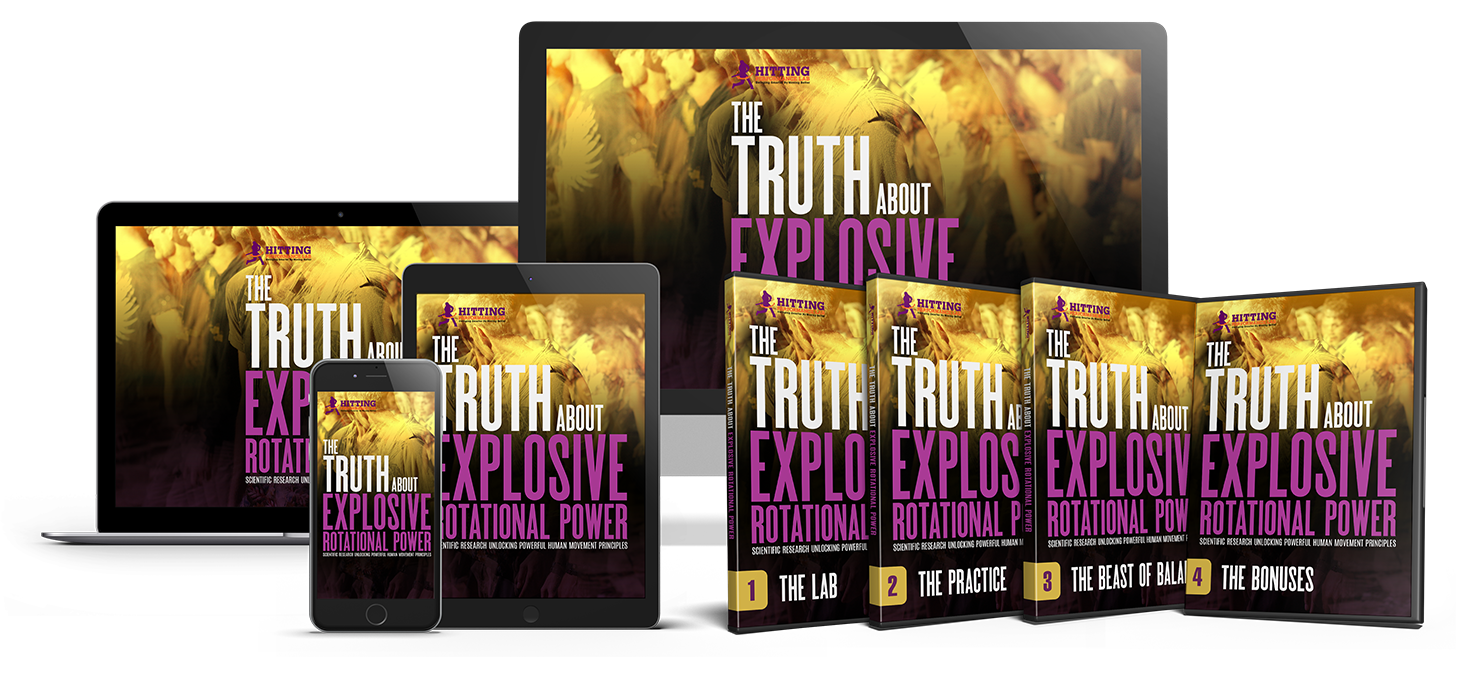 What You'll Discover:
Order today & get the Free PDF bonus report: "7 Crucial Mistakes Made When Teaching Explosive Rotational Power"
A consistently powerful "friction-free" swing in 8-steps
Effortlessly add bat speed in 60-days
Naturally & easily load the body like a spring
Fix movement dysfunction limiting athletic performance
Over eight-hours of video optimized for mobile devices
Okay, I know you may have some questions for me about the course. Here are answer to my most Frequently Asked Questions…
Frequently Asked Questions…
Q: How long does it take on average for players to learn this swing?
A: According to my students, it takes the average Little Leaguer 4-8 weeks to get the footwork down. It all depends on if they practice every day at home. Remember, coaching is THREE things: 1) Teaching the right fundamentals, 2) Making the knowledge being taught sticky, and 3) Coaching follow through.
Q: My clients' parents want fast results but it takes time to apply the principles.
A. All parents want fast results, it's human nature. But some are open to taking time for proper Neuromuscular development. According to the bestselling book The Talent Code, Daniel Coyle says the struggle isn't an option, it's a biological requirement. Parents have to understand this, and have to realize they're responsibility is based on number three above: Coaching follow through. Parents expect their kids to get better with just three days of practice per week…but science says this is near impossible.
Q: Do you use Cevellos' heavy bat to help teach the un-weighting principle?
A. Short answer, not anymore. There are better alternatives on the market with the convenience of more model variety. You'll learn how powerful the un-weighting principle is and how-to build it into a future friction-free swing. I even do a demo of the un-weighting principle and it'll really open your eyes!
Q: What do you tell the parents about stride vs leg lift?
A: I tell them it's all about personal preference. Small-boppers in the Big Leagues use the stride for timing...Cano uses a slide step, whereas Bautista uses a leg kick. Push whatever the hitter is comfortable doing. Just note that a leg lift requires the Float to happen sooner, and last longer than a Cano slide step.
Q: How effective are these principles in slo-pitch softball where the player must generate almost all of the power?
A: It's even more critical that you use these principles in slow pitch softball. You still have to conserve linear (forward) into angular (rotational) momentum like any other explosive rotational athlete does. The barrel plane is the only difference if you're playing a ten-foot pitch arc. You'll learn a lot from The Truth Course and it'll translate into more consistent power on the field.
Q: Is 7yrs old too young to teach this style of hitting?
A: Nope. 7-years-old is the youngest I teach this swing to. Now, the speed at which they grasp the movements may take longer than say a 12yo. But just have patience with them...just the fact you're teaching the friction-free swing to them early will pay dividends when they get to the big field.
Q: Without going into my background I will say I have too found the more important part of the swing is the proper load and momentum built to turn on ball. As a kid we were taught slow feet quick hands. Timing?
A: Yes, and timing is VERY important. Think of linear and angular momentum as making the Final Turn feel lighter. A hitter becomes a projectile missile versus a bump on a log...think of the broad jump versus the triple jump in the Olympics. I go into quite a bit of detail on how-to calibrate timing in The Truth course.
Q: My kid does not get his front heel down throughout the whole swing process; will this program help him with this?
A: Yes it will. He'll be putting more weight on the stride leg initially, so it'll feel more natural to him to put the heel down. Getting the front heel is crucial to getting the timing signal to the front hip to open. If the pelvis doesn't get that signal, or it's muted, then we also don't allow the signal to continue up the spine into the shoulders telling them to counter-rotate the pelvis…like when we walk, opposite leg and arm come forward. Again, the course will help with this.
Q: I've always disliked e-books and pdfs, and I access internet by phone and nook. So even smaller print. My question is, is The Truth compatible with mobile devices and am I going to be straining to read a bunch of pdf's?
A: The Truth course is made up of 100% mobile device compatible videos. There are some PDF's you can print out to take notes, but it isn't required.
Q: I've also heard you say this helps correct arm barring, or hands first types of swing. Is there evidence of this?
A: Yes, the Catapult Loading System helps with this. Getting the shoulders into the right angle and the hands locked into the proper place engages The Spine Engine. It will take time to un-learn a hands-first swing, but will pay off. The Catapult Loading System helps with arm barring and bat drag without having to purchase a specific hitting aid. For evidence on this, I'll be periodically posting case studies of my students to HittingPerformanceLab.com, and you can see for yourself.
Q: I've heard you say this can help with lunging, is that true?
A: Yes this is true. Lunging and hands-first swinging go hand-in-hand. We're taking the focus off the hands and putting it on the spine engine. In a worst case scenario, if a hitter is out in front of a pitch using The Truth course information, then he or she will still have the Catapult Loading System to work for them. Hank Aaron was out in front quite a bit during his career, but he did pretty well for himself I think because he used the PRINCIPLES we talk about in the Course.
Q: Does this apply to softball as well?
A: Yes it does! All explosive rotational athletes NEED to abide by the same human movement PRINCIPLES. These are the rules of the game for baseball as well as softball. The only difference is Data Collection: Following the Pitch either over or under-hand.
Q: How is your system different than anybody else?
A: The Truth About Explosive Rotational Power is based on proven human movement science. I've been told by clients that the information fills in the blanks to what others have out there. You'll learn STEP-BY-STEP how to incorporate human movement PRINCIPLES in a way the brain and body work together most efficiently, as a whole and NOT segmented into puzzle pieces. The Course covers the THREE critical coaching elements: 1) Fundamentals, 2) Make Coaching Sticky, and 3) Follow Through Feedback.
Q: Are there other payment methods not online?
A: Yes. Even though we use Secure Socket Layer, or SSL technology to protect your payment information, you can call 1-888-868-5002 and set up a time to pay over the phone. Sometimes it's nice to talk to a physical person.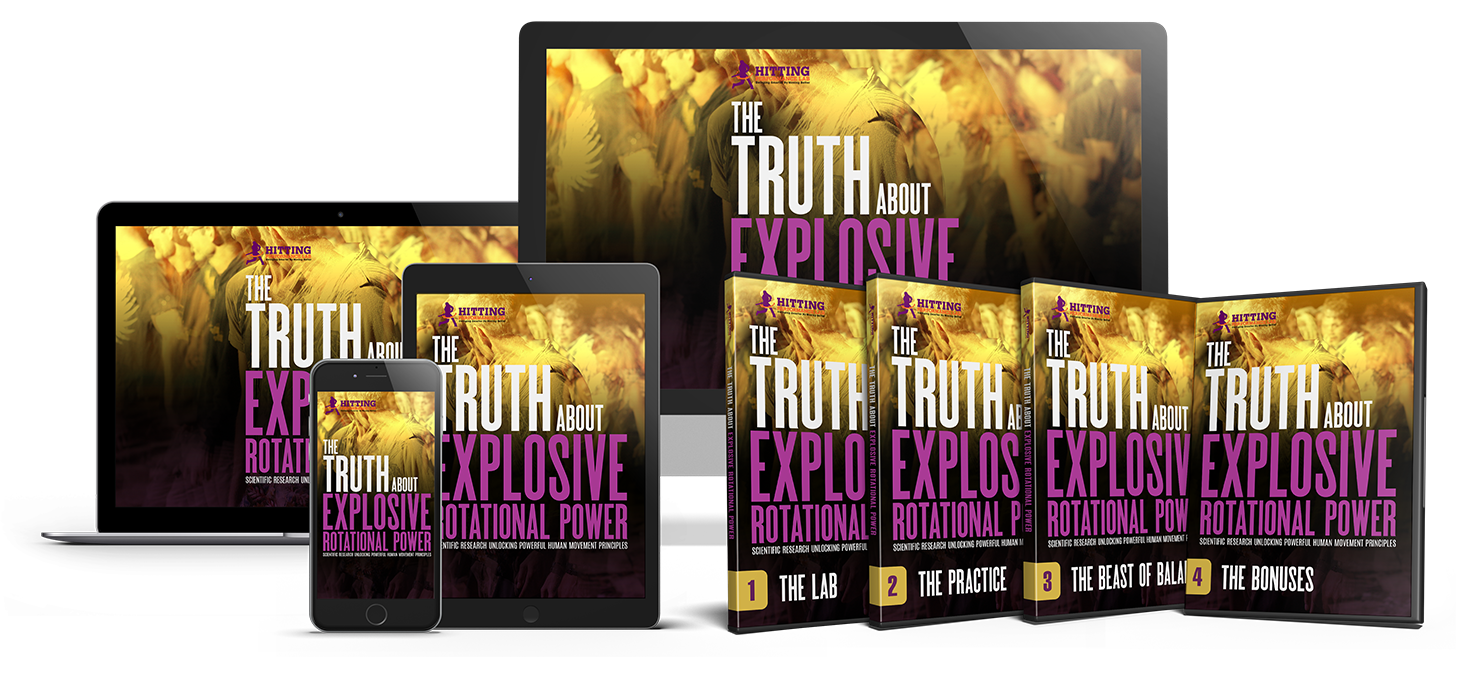 What You'll Discover:
Order today & get the Free PDF bonus report: "7 Crucial Mistakes Made When Teaching Explosive Rotational Power"
A consistently powerful "friction-free" swing in 8-steps
Effortlessly add bat speed in 60-days
Naturally & easily load the body like a spring
Fix movement dysfunction limiting athletic performance
Over eight-hours of video optimized for mobile devices